Expensive rents, tiny houses: The issue of student housing in Greece
05.10.2022
The steps are simple: You'll first look for a room in the student dorm, and at the same time, you will search for a flat – any flat. If you don't find a room in the dorm, you just rent any flat you can find, besides, there aren't that many available. In the second year, you'll look for something better. This is how the majority of students who study away from their hometown navigate their way around.
Student housing always included issues such as the poor condition of many flats, the high rents in neighbourhoods that are near university departments or the strict criteria for securing a room in a student residence. In recent years, however, these problems have exacerbated. The proliferation of short-term rentals, housing financialisation and uncontrolled touristification have led to even more expensive rents, but also to a shrinking of the housing stock that is available for rent.
There are also some other groups of professionals facing similar issues, like for example substitute teachers, doctors etc. An indicative incident took place recently in Paros, where a teacher who was assigned to work in a secondary school on the island, resigned because he could not find a place to stay. Similar difficulties are faced by teachers on many Cycladic islands, as it has become common practice for landlords to rent houses for only 9 months (September-June) in order to earn extra income during the tourist season.
In the Dodecanese, the teachers' associations are asking the relevant ministries and the local government to find a solution to the problem in order to meet the existing needs immediately by leasing hotels and houses as well as to establish a housing allowance. According to the 2nd Greek Federation of Secondary Education State School Teachers Association (B' ELME) of the Dodecanese, the choices available to a newly appointed or substitute teacher who would present themselves to a Dodecanese island in order to undertake their duties at a school on 1st September, are either to pay for a hotel out of their own pockets or to look for a cheaper solution in a camping site or even to sleep in their car.
Three different houses in three years of studies
Alexandros is a students at the Department of Product and Systems Design Engineering in Syros. He rented his first flat in the fall of 2020 – a 35 sq.m. furnished flat. His tenancy agreement/ leasing contract only had a 9 months' duration – something that is against the current leasing regulations.
He moved out a few months later, at the beginning of 2021, as that year, due to the coronavirus, all Greek university institutions held their lectures via videoconferencing and distance learning.
This will be his third year of studies. So far he has changed three different houses, the profile of which is more or less the same: furnished apartments of 30-35 sq.m., where the rent exceeds 300 euros and in some cases is close to 400. And most importantly: in all the tenancy agreements there was a clause stipulating that he should leave the house by the end of June-early July at the most.
"It's a very stressful situation because if anything happens, like for example exam dates getting pushed to mid July, you still have to leave your house and be hosted by friends. You can't enjoy the house in the summer and it definitely doesn't feel like your own", says Alexandros.
Myron Maragidis owns a real estate company in Piraeus. He confirmed that leasing flats and houses for only a few months at a time is becoming an increasingly common practice in the Greek islands in the past few years. He maintains that an already established pattern of student exploitation has intensified in recent years with the soaring rental prices. "They rent slightly renovated basements and semi-basements for 400-450 euros. If students didn't need them, the owners wouldn't even get 200 euros for such properties".
He has observed that the price of a flat drops by 20-25% if it is not rented during the period of enrolment in educational institutions, i.e. in September and October.
Increased rents
According to Spitogatos Insights, the average student housing rent demanded by landlords across Greece in 2022 has increased by 7.7% compared to last year. In Athens, the student homes with the highest asking prices are located in the following areas: Kolonaki-Lycabettus Hill, Mets, Koukaki, Dafni, Goudi and Ilisia.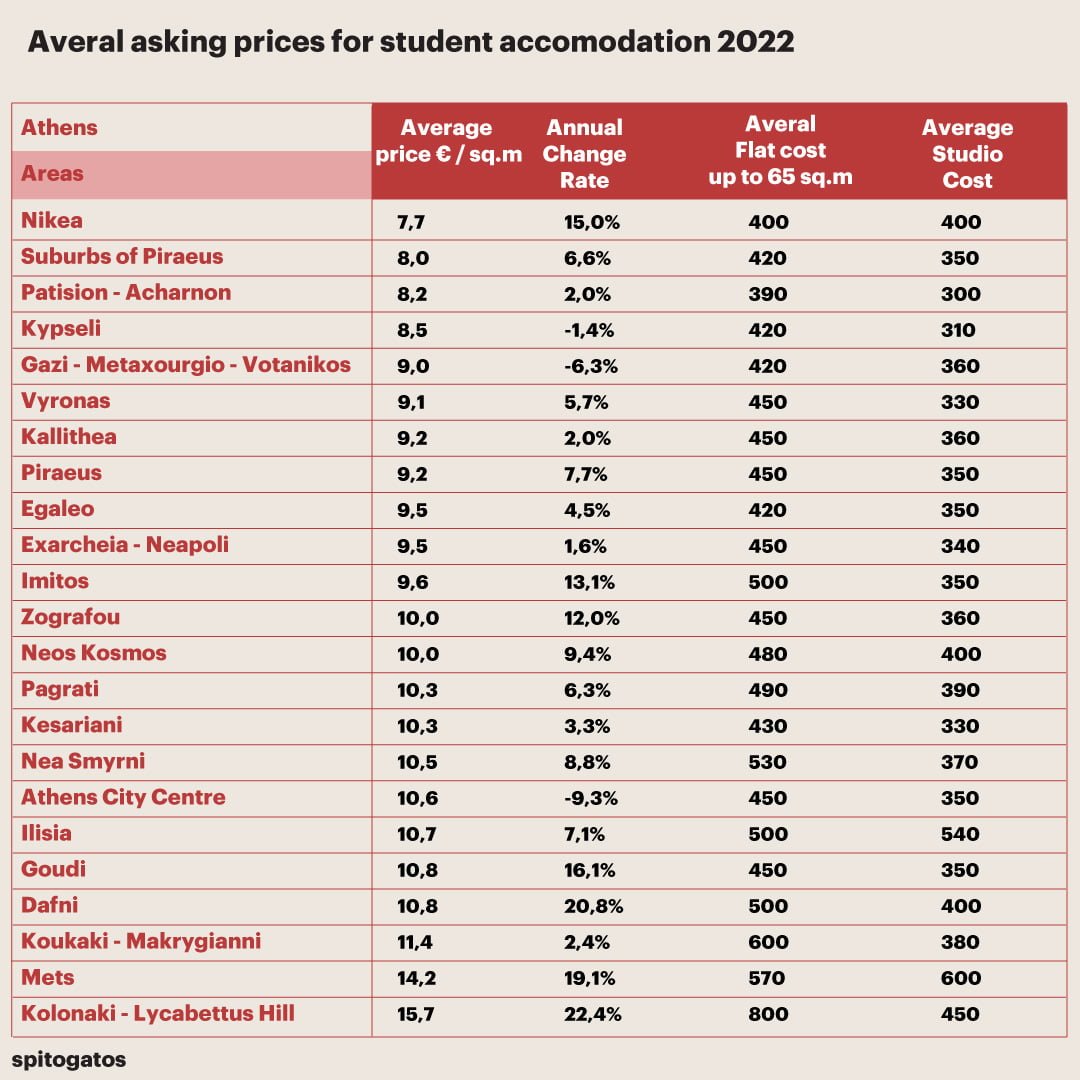 In Thessaloniki, the most expensive areas for students are the city centre, Nea Paralia, Saranta Eklisies, Doxa and Evangelistria.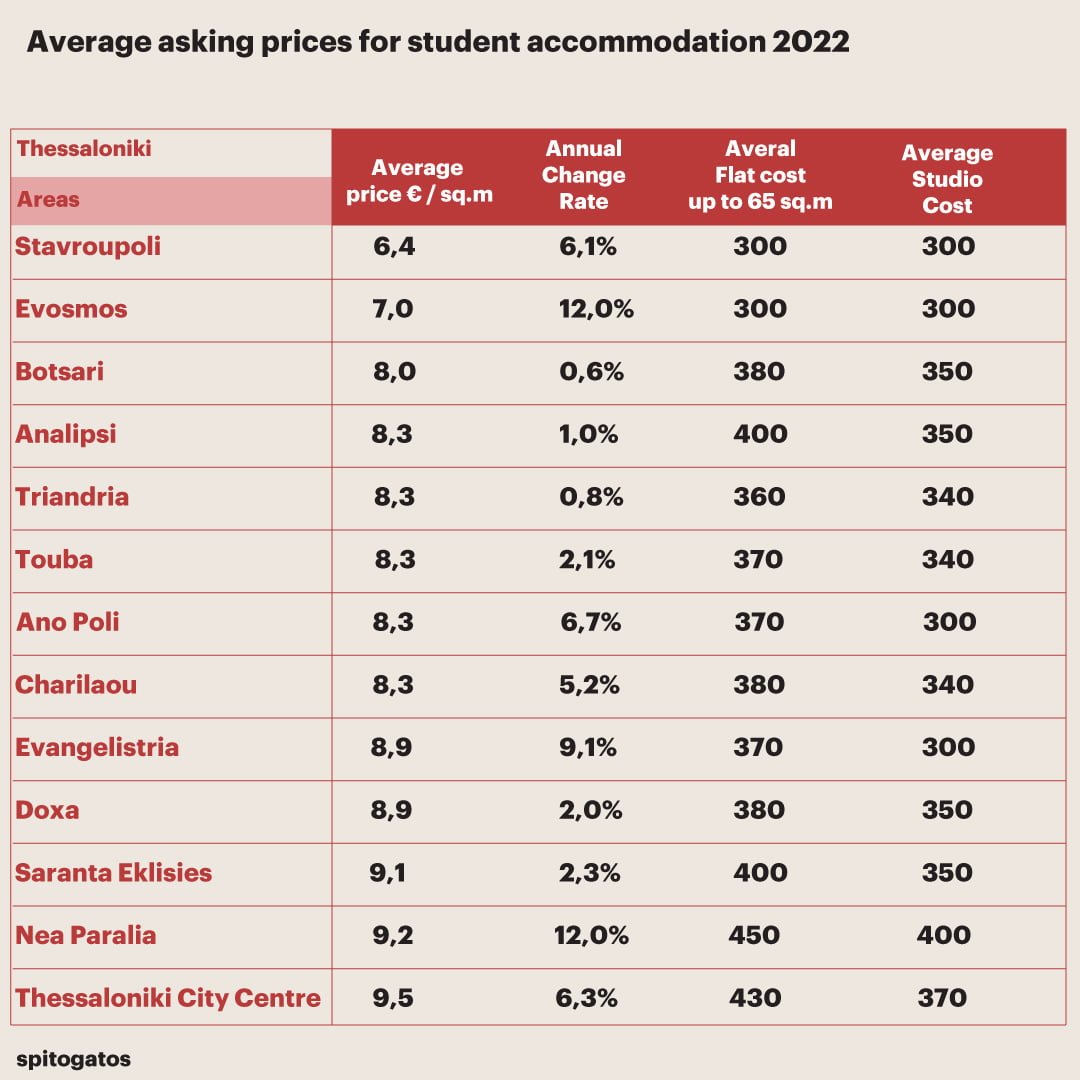 In the rest of Greece, the highest average asking prices for student flats were registered in Corfu, Chania, Rethymnon, Preveza, Trikala, Heraklion and Volos.
Expensive rents, small houses, cheap constructions
Filareti is a student at the School of Journalism & Mass Communications of the Aristotle University of Thessaloniki (AUTh). She also enrolled in the Fall of 2020, but moved permanently to Thessaloniki a year ago, due to the pandemic.
For about two weeks, she saw three to four flats per day. The landlords and real estate agents pressed her to decide quickly, claiming that their properties were in huge demand.
"They told me that many people were after the flat and that they were getting better offers. The whole thing felt like an auction."
Her initial plan was to find a furnished flat that would cost 380-400 per month, but the only ones available on that budget were too small (up to 25 sq.m.). Many of them needed repairs and presented issues that the landlords promised to fix "some time in the future".
Eventually she found a 35 sq.m. furnished flat, where the rent is 450 euros, including utilities (electricity, water and internet connection). Yet, after one year of living there, the flat already needs various repairs.
"Most of my friends' and acquaintances' houses look okay at first, because the construction is modern but that doesn't mean that they're of good quality or that the flats are functional. More often than not, several issues arise".
Lately, many of Filareti's fellow students have been looking for flatmates in order to share housing costs. They usually end up sharing really small flats, so that each one's rent is slightly below 400 euros.
Why are there less available flats?
The answer to this question is multifactorial and requires more extensive analysis, but at least in part, the "culprits" are (a) the reduced housing production during the recession years, (b) the increase in speculative investments in real estate, (c) housing financialisation, (d) the pressures resulting from the tourist use of the housing stock, and (e) the complete absence of public intervention in order to ensure affordable housing.
The first factor is pretty straightforward and is combined with the absence of support policies that would allow for access to adequate housing conditions, with the implicit assumption that housing problems to a significant extent still tend to resolve themselves. The increase in investment in the real estate market has arisen, inter alia, as a result of the global financial crisis. In the immediate aftermath of the crisis, there has been an overconcentration of capital, where funds that were readily available "had" to be invested. This led both institutional (funds, corporations, insurance funds etc.) and individual investors to turn towards real estate. Combined with housing financialisation, this has led to an increase in housing costs and greater financial pressures (housing affordability) on households. Consequently, households unable to afford said costs are being displaced from their homes, seeking more affordable opportunities in other neighbourhoods or on the outskirts of the city.
Touristification is another aggravating factor. Central areas of Athens are being violently transformed, through rapid and radical changes in local activities and services often targeting tourists and other visitors rather than residents. This factor includes the effects of short-term rentals that naturally affect the more touristic areas much more severely.
What are the housing needs of the student population in Greece?
According to the last available annual review published by the Hellenic Authority for Higher Education (HAHE) (2020), Greece – with 705,959 undergraduate students – has one of the largest student populations relative to its population. Of course, as noted in the report, since the figure is measured on the basis of enrolled students and a large proportion of them are considered as inactive, the calculation is not such an accurate representation of reality.
According to HAHE's President, Mr. Pericles A. Mitkas' statement in an assembly of the Standing Parliamentary Committee on Educational Affairs (02/12/2021), in Greece there are currently 24 universities plus the School of Pedagogical and Technological Education, offering 430 undergraduate programmes in 427 departments (there are another 31 departments, such as police and army departments etc.), 1,110 postgraduate and 291 PhD programmes.
There are no official data available on the exact number of active students. However, in order to calculate the approximate number of people entitled to student accommodation we added up the number of students who enrolled at universities in the past six years. Note that only those who are within the timeframe of n+2 years of study are entitled to apply for student accommodation.
The total number of students who have enrolled from 2017 to 2022 is 447,532. To be eligible for free student accommodation, a student must meet certain socio-economic criteria, which are set by each university. One of the conditions is that the students who will live in the student halls must come from low-income families and study away from their families' place of residence.

Student residence halls in Greece
At the same time, according to data from the Ministry of Education and Religious Affairs (September 2022), the number of student residence halls managed by the Youth and Lifelong Learning Foundation (I.NE.DI.VI.M) that are based in Athens is 17. There are 7,267 students living in said halls, while another 272 students are housed in partner hotels.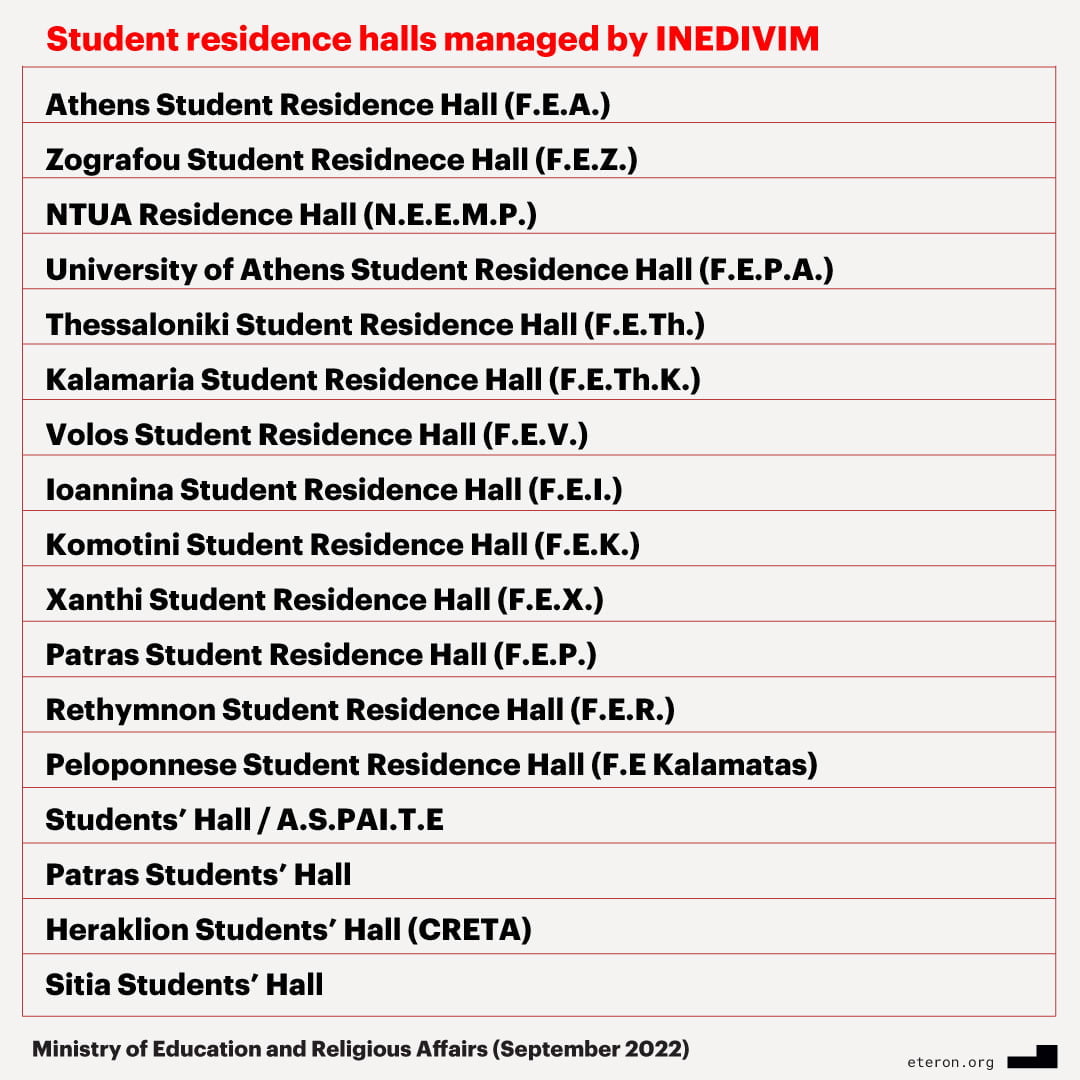 In addition to the above, there are also student residence halls managed directly by the universities. After collecting data from their websites and adding it to information gathered from deans and heads of departments' statements, the number of available beds in said student residence halls is:
In total, the student halls that are managed by universities offer 1,288 beds. Some of those universities are also leasing rooms in partnered hotels. The beds available for students in hotel rooms are 916 in total.
Therefore, the total number of available beds for students in residence halls across Greece is 9,743.
It is worth noting that the Athens School of Fine Arts doesn't own or run a students residence hall, yet allows its students to apply at other universities' halls. The same goes for the University of Piraeus, as well as Harokopio University, the University of West Attica, Panteion University of Social and Political Sciences and the Agricultural University of Athens.
At the same time, apart from the public student residences, there are also some private ones, such as the Cretan Residence in Pagrati, an organisation which runs hostels that house approximately 180 students, mainly from Crete, who study in Higher Education Institutions in Athens and come from low-income families. Other such examples of complementary student hostels that operate at a cost, include those run by the Church of Greece. (Y.W.C.A. of Athens, St. Demitrius, Christian Students' Action etc.)
It is obvious that there is a huge need for more public student residences, as there are universities nationwide that cannot offer any accommodation solutions to their students. The existence of private dorms is further proof of that need. At the same time, the number of students who are theoretically entitled to accommodation (about 450,000) remains higher than the number of beds available in the existing student halls, even if we deduct a) students studying in their hometown, b) students who choose to cover their own accommodation costs and c) students who have already completed an undergraduate program in the past and are currently doing a second one and/or students who are over 25.
What is it really like living in a student residence hall
When Christos was admitted to the School of History and Archaeology in 2019, he started gathering the necessary paperwork in order to apply for a room in the students residence hall of the Aristotle University of Thessaloniki. While waiting for the beneficiaries to be announced, he slept on friends' couches. On some occasions, he spent the night in Airbnb rooms.
He was already proactively looking for a job and a flat for long-term lease in case the response from the residence hall was negative. Rental costs were already prohibitive by then, especially in relation to the properties' condition.
"When I was looking for a flat, I saw one that wasn't in the city centre. In fact, it was more like a storage room. It was so tiny, it didn't even have enough space to walk around the bed. The landlord wanted to rent it for 300 euro."
Christos finally succeeded in getting a room at the students residence hall that same year. However, he comments that the eligibility criteria, especially the financial ones, remain very strict. Many of his fellow students who did not manage to get a room at the residence halls, find themselves having to work in order to pay their rent.
At the same time, the increase in rental costs in recent years has pushed many students away from the city centre, in areas where rents are slightly lower. The distance may not be prohibitive, but in the evenings, many have to walk 40 to 50 minutes from the city centre of Thessaloniki in order to get home.
But life in the student residences is not necessarily comfortable either. Christos comments that the facilities are not well-kept and that students have to face several difficulties throughout the year.
As an example, he mentions maintenance problems in the facilities' lifts. It can take up to a year to fix something. Similarly, in the winter there were cases where residents had to take a bath with cold water because hot water was not enough for everyone.
On the issue of student residences and housing in general, both the Communist Party of Greece (KKE), the independent MP Angeliki Adamopoulou and the Coalition of the Radical Left (SYRIZA) have submitted relevant questions to the Prime Minister, in September 2022. The common denominator is the difficulty faced by students and their parents with regards to rental housing due to the spike in rental costs, as well as the dire state of student residence halls.
Government announcements on student housing
On 10 September, the Prime Minister announced the government's housing policy at the Thessaloniki International Fair, while on 15 September the relevant measures were presented in more detail at a press conference. At Eteron, we have published an article where we've highlighted and analysed 6 essential shortcomings that we believe should be taken into account in the public debate.
Regarding student housing, the government announced the construction of new student residence halls in five geographic areas across the country, namely in Thrace, Western Macedonia, Thessaly, Western Attica and Crete. More than 8,150 beds will be created through public-private partnerships, costing more than 540 million euros. Construction is scheduled to start in 2023 and to be completed in 2027. The dormitories in Crete alone are a 206 million euro project.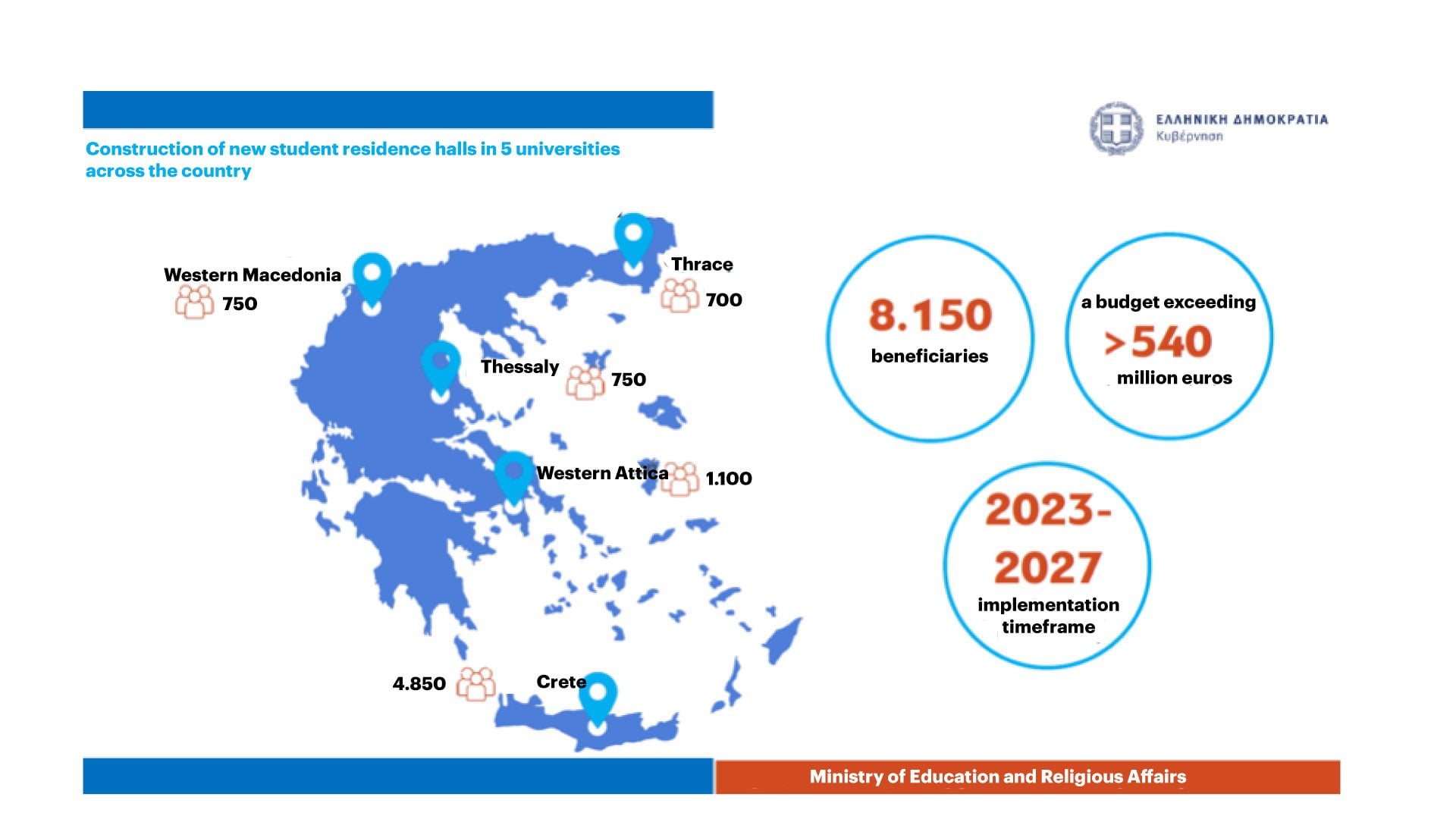 At the same time, the government announced an increase of the student housing allowance from 1,000 to 1,500 euros per year, an increase of 42 euros per month. The amendment provides for a 2,000 euro allowance for beneficiaries who share rented accommodation with another student.
According to the postdoctoral researcher of Urban and Spatial Planning, Dimitra Siatitsa, "the announcement of measures and the intention to commit resources to support student housing is a positive development. However, as we have seen in the case of other policy sectors, any increase in allowances without the implementation of rent caps, is being absorbed by price increases. Moreover, this policy does not address the issue of the poor condition of a large share of the more affordable flats that are being rented while having significant problems of dampness, mould, deterioration, lack of heating, etc. Therefore, it is necessary to set standards and ensure that the necessary controls are in place".
As D. Siatitsa points out, on the issue of the student residence halls, a model of enhanced social return could be selected, where the participation of the universities and the student community would be significantly increased:
"With regard to the student residence halls, [the government uses] the usual practice of public tenders – something that raises the costs, without incorporating the possibilities and guidelines provided by the European framework for maximising the public benefit, and especially for the formation of a sector of social constructors and providers operating on the basis of limited profit and social return.
Using the same resources, universities jointly with the student community could pursue the creation of student cooperatives for rental housing, a model based on self-organisation, solidarity and democratic management with the direct participation of students, which can use both existing buildings of public or private institutions, but also see to the construction of new student residence halls where necessary. In fact, an effort is currently being made to establish a federation of student housing cooperatives in Europe – a network that could provide inspiration, know-how and support to Greece as well."
---
Footnotes