The Greek economy has gone through a long period of sharp decline, stagnation and slow recovery. This shrinkage was one of the most severe on record, and it also affected wages, incomes and values. Dealing with twin deficits, i.e. a deficit in both the balance of payments and public finances, reduced the need for constant external borrowing, but the structure of the economy, despite an improved export performance, remained unchanged, with tourism, services, construction and low value-added activities in general still dominating. The investment lag and the deviations from the structure of the European economy are clearly visible, thus making the issue of growth the most crucial factor for a sustainable perspective for the Greek economy.
The multiple successive crises (in health, energy, inflation, geopolitical realignments, globalisation) are shaping an unstable international context, which calls for more active politics, both in terms of economic policy – monetary and fiscal policy – as well as in the more strategic issues of the country's development strategy.
For all the above reasons, the MetaVASI Group for sustainable and equitable development, which operates within the framework of the ENA Institute for Alternative Policies, and Eteron – Institute for Research and Social Change are organising a three-day conference at Eteron's premises (38-40 Leokoriou Street, Psirri, Athens), with the title "In Search of Alternatives: Strategies for the Development of the Greek Economy".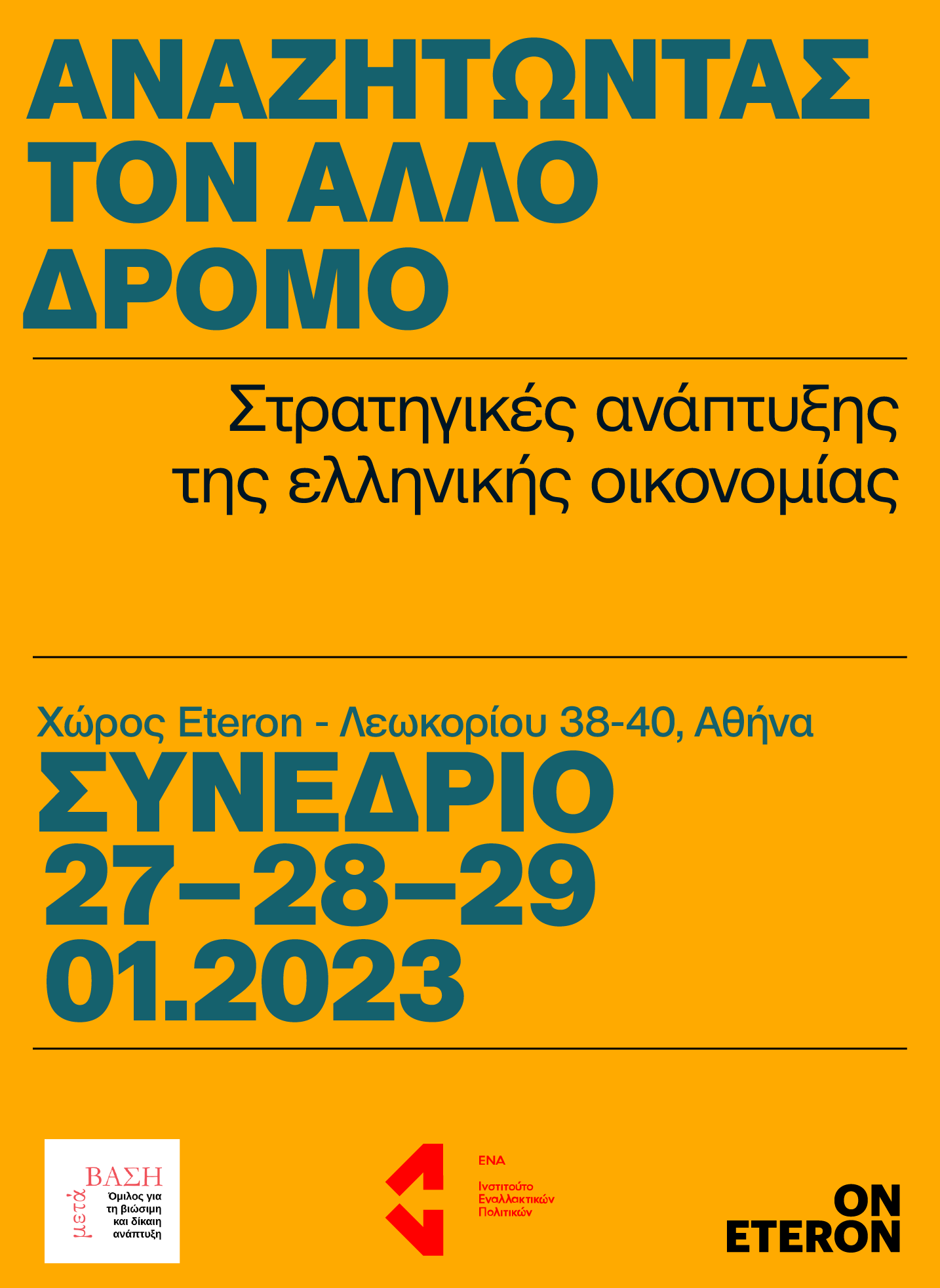 The conference proceedings will start on Friday, 27th January and finish on Sunday, 29th January.
The scientific committee of the conference consists of Nicos Theocarakis, Maria Karamesini, Lois Lambrianidis, Antonis Liakos and Giorgos Stathakis.
The aim of the Conference is to examine the different aspects of growth and development. The common ground highlights the need to strengthen productive and technological sectors and high value-added activities, with a view to upgrading the international position of the Greek economy.
The growth prospects of the economy de facto require interventions within the state, public administration and institutions, addressing long-standing shortcomings regarding the tax system, the spatial and environmental framework, infrastructure and financial structures. At the same time, those prospects must be compatible with the major transformation that several economies are currently going through as a result of the green transition and the new digital and industrial change.
Sustainable development requires a new perspective on the relationship between the public and the private sector, on the potential development role of the state, on the international mobility of investments, on the internal interconnections of the economy combined with the strengthening of outward-looking activities and on the key policy issues of education, research and innovation.
But it also ties in with the critical issues of labour and the widening of social inequalities that the previous cycle of economies recorded before the financial crisis and which, together with the welfare state, has since emerged as a central issue in today's development policy.
The discussions that will take place during the three-day conference will cover the following topics:
European integration and models of growth, fiscal policy and social welfare: Greece in comparative perspective
Scientific research and innovation in economic development
National and European public investment resources and the use of public assets – The progressive proposal
Spatial inequalities and spatial planning
SMEs: Are they necessary for a sustainable economic development and economic democracy or are they a residual category that should be eliminated?
Specific traits of the Greek economy
Development policies and instruments – Tourism
Developmental state
Fiscal policy and development
Labour market and labour force